A newborn baby delivered in a nursing home at around 2:00 pm was referred to a higher centre in a critical state.
The parent's family took their baby to various hospitals in Durgapur & Asansol.
Wandering here and there, to find a ray of hope, they finally brought the patient to HLG Hospital at around 9 pm in a very critical phase (gasping situation and bleeding from mouth).
Our Paediatrician, Dr Ritesh Kumar Singh (MBBS, DCH, DNB-Paediatrics) and his team took the risk and admitted the patient.
Our team explained to the patient party the criticality of the patient, where the chances of survival were merely 1%.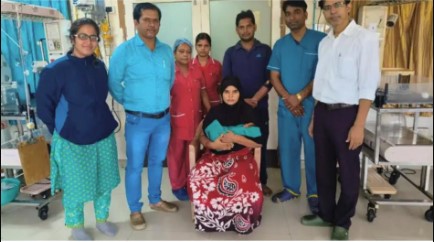 Rare successful laparoscopic surgery is done for the first time at Asansol
The patient party trusted the hospital and our Paediatric & Neonatal team. After continuous and rigorous efforts the child who had come in a critical state recovered and got discharged absolutely fit and fine.
Media Coverage: Aawaz & Jhalak Aarthik Dhaara